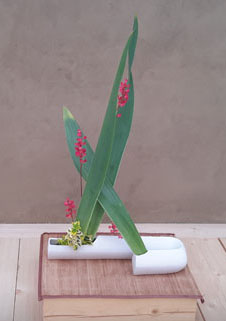 Online courses
Tuesdays and Thursdays.
Other days according to agreement.
Book for 1-hours pass, choose among the following times:

10:00 - 11:00, 11:00 - 12, 14:00 - 15:00, 16:00 - 17:00, 18:00 - 19:00

Price
400 Kr per pass for individuals participant. If several people join in for the same time, 360 Kr per person per pass.
Every participant works in his/her own time, according to Ichiyo school's curriculum and creates one arrangement
At booking time you will get instructions about flowers and branches and accessories you will need.
Register at latest 3 days before the course date, at info@ikebana.se
We use Skype or Messenger or Zoom.
---