First Leaf Ikebana Ichiyo Ikebana School in Sweden 2019 Spring

Ikebana in Åkersberga: Thursday courses
Jan 31, Febr 14, March 7, 21, Apr 4, 25, May 23, June 13 - choose your day
Daytime : at 11:00-12:30 and evening at 19:00- 20:30
Every participant works in his/her own time, according to Ichiyo school's curriculum and creates one arrangement
Price: 380 kr including material / each occasion

Possiblity to double course from 10:00 to 12:30 or 18:00 to 20:30.
You create 2 arrangements for 580 kr.
Place: Praktejdervägen 11 ( community local ) in Tråsättra.

Register at latest 3 days before the course date, at info@ikebana.se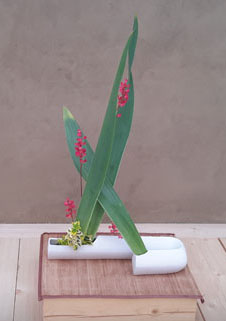 Workshop in Östasiatiska Museet, Stockholm:
March 16 Saturday - Hinamatsuri arrangements with rose
March 31 Sunday - Ohanami arrangment with branches
May 4 Saturday- Ikebana and meditation, arrangement with iris
Saturdays or Sundays, at 11:30-14:30

Every time you create 2 different arrangements: one in a shallow container and one in vase
Price: 650 kr incl. material /workshop
You register on the Östasiatsika Museum´s website

Courses, workshops, lecturing 'in place'
You can order:
-arrangements for conferenses and other company functions, receptions, shop window and for special occasions, e.g. birthdays, bachelorette party.
-courses, workshop at the company site, e.g. team buidling, lunch workshop or after work
course.

Ikebana via internet

There is possibility for private course via internet / Skype, around 1 hour. Vi do one arrangement together and you will receive written material prior to the course.
Price: 380 kr (and price for your own material - you buy the material yourself according to suggestion)